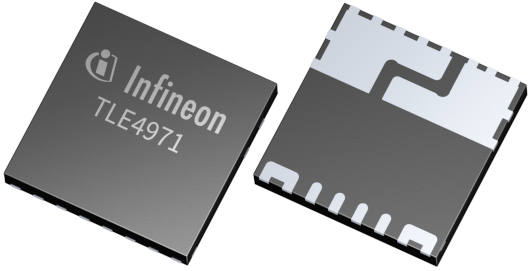 Called TLE4971, they are "ideal for on-board chargers, high-voltage auxiliary drives and charging applications", according to the company. "Additionally, the sensor is also ideal for industrial applications including dc chargers for electric vehicles, industrial drives, servo drives and photovoltaic inverters."
Inside, current sensing is magnetic, with temperature and stress compensation, "without the negative effects of magnetic cores cased from hysteresis or saturation effects", said Infineon. Differential sensing is used to cut the need for a core or shielding to protect against stray fields. Insertion resistance is 220µΩ and insertion inductance <1nH.
It needs a 3.1 to 3.5V power supply, and the output is analogue – depending on the programmed option, the output can be single-ended, fully differential or semi-differential.
User-programmable parameters, such as over-current thresholds, blanking times and output configuration modes, are stored in an embedded eeprom.
Slew rates can be up to 10V/ns, galvanic isolation is 1,150V peak, partial discharge capability is 1,200V, and there is 4mm clearance and creepage.
Packaging is 8 x 8mm PG-TISON-8-5, and the devices are qualified to AEC-Q100 Grade 1 for automotive applications up to 125°C (operation is from -40°C), and there are UL certified versions for industrial use.
As an example the 50A version can be found on this web page