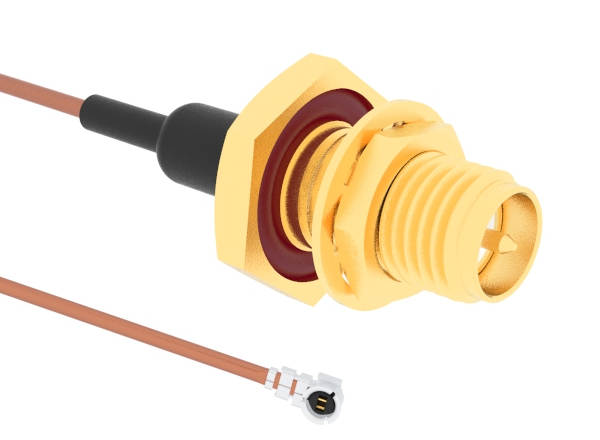 With RP-SMAs, the externally-threaded connector has the pin (image right) and the internally-threaded connector has the socket. For a conventional SMA connector, see the photo below
"The RP-SMA connector offers the same features and benefits as the SMA interface, but the gender of the connector's contact pin is reversed," according to Amphenol. "These connectors also provide additional benefits over traditional SMA in regard to long-term use: In the event of wear, which is a typical result of screwing and unscrewing that causes signal strength to decrease, the RP-SMA connector allows for only the antenna or cable to be replaced."
The part number is 095-902-578-xxx, where xxx is the length in millimetres – '050' for 50mm, for example. Here, the AMC connector is right-angled in all cases and the RP-SMA is a bulkhead connector in all cases.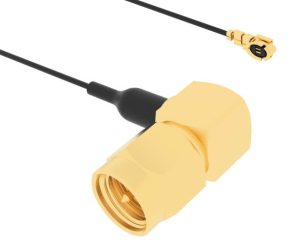 Conventional polarity connector from Amphenol RF
Amphenol RF is headquartered in Connecticut and has sales, marketing and manufacturing locations in North America, Asia and Europe.
The product page for 200mm reverse polarity assembly 095-902-578-200 can be found here