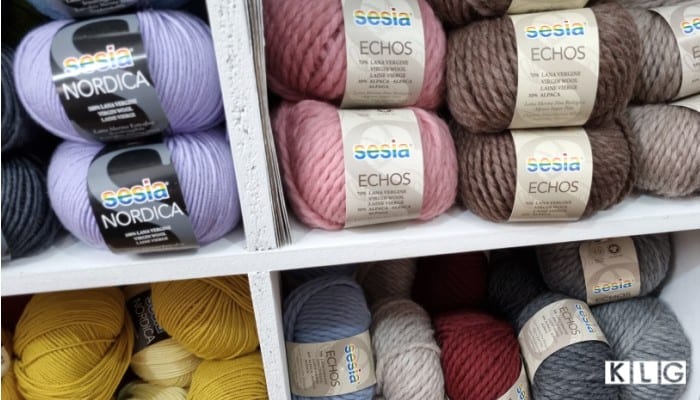 Looking for a versatile, affordable yarn?
Wool blend fibers might be the perfect choice. I explore what wool blend yarn is, and ways to use it for knitting.
Table Of Contents
What Is Wool Blend Yarn?
It's a animal/plant fiber blend sold at moderate prices.
This fiber blend is popular because it's warm, often machine washable, easy to care for, and comfortable to wear. 
They're soft and great for any project.
It's available in a delightful range of colors.
Where It Comes From
Wool is the most common animal fiber used in yarn. It comes from sheep, and there are many different wools with varying properties.
Merino wool, for example, is one of the softest wools available.
Wool is often blended with other fibers to create a yarn that's strong, but not as scratchy as 100% wool. Like
Cotton yarn
Acrylic yarn
Alpaca yarn
Bamboo yarn
Silk yarn
How It's Made Into Yarn
Creating yarn starts with the animal or plant.
The fiber is harvested from the animal or plant, and it's cleaned and spun into yarn.
Here is a video by Mark from The 10 Acre Woods on how they process wool into yarn.
Such a fascinating process.
How To Wash This Yarn
Here are the care instructions for wool blend fibers.
Machine wash on the delicate cycle
Or handwash it
Use cool water with a mild detergent
Don't use heat or agitate it too much as it'll felt
Don't machine dry, bleach or iron it
Always check the yarn label for instructions specific to the yarn you're using.
Does It Shrink When Washed?
Yes, all wool shrinks to some extent when exposed to heat. To avoid this, use cool water and lay your projects flat to dry.
How To Soften This Yarn
Washing it after you've finished knitting always helps!
Pin For Later
What Do You Use It For?
It's often used for projects and things like:
Clothing
Sweaters
Hats
Scarves
Gloves
Socks
Home décor
Blankets
Cushions
Rugs
Toys
Any project where you want a durable yet soft yarn!
Common Blends
Here is a list of common blends using wool, and why they're created. 
Wool/Cotton – The cotton makes the yarn more affordable, while the wool content adds durability and warmth.
Wool/Acrylic – It's machine washable and keeps the benefits of wool. The acrylic makes it cheap and easier to care for.
Wool/Alpaca – A luxury blend that's soft, but still has the benefits of wool like durability and warmth
Wool/Bamboo – The bamboo makes the yarn more environmentally friendly and adds a subtle sheen
Wool/Silk – The silk makes the yarn softer and more luxurious, while the wool adds durability
Where To Find It
Here's where to find this yarn.
At a yarn store or craft stores in your area
At big box stores like Michaels, Walmart and Joann
Online brand shops
Here are brands or manufacturers of wool blend yarns to try.
Debbie Bliss
Paintbox Yarns
Lion Brand
Knit Picks
Cascade Yarns
Valley Yarns
What's The Price Like?
The price of wool blend yarn varies depending on the fibers used, but it's usually affordable or midrange.
Including cheaper fibers like cotton or acrylic lowers the price.
Q&A
Is Wool Blend Yarn Safe For Babies?
Yes, it's safe for babies because it's a natural fiber, though some babies might find it irritating for their skin.
If this is the case, try a merino blend instead.
Is Wool Blend Yarn Ethical & Eco-Friendly?
Look for yarn that's made from recycled materials or certified organic fibers.
Is Wool Blend Yarn Itchy?
Yes, it's itchy because some people have an allergy, but the itchiness can be minimized by using a merino blend instead.
Is Wool Blend Yarn Good For Clothes?
Yes, it's good for clothes because it's durable, breathable and absorbent.
Is Wool Blend Yarn Good For Winter? 
Yes, it's good for winter because it's warm and insulating.
Is A Wool Blend Good For Summer?
No, it isn't good for summer because it's too warm.
Do Wool Blend Yarns Pill?
Yes, they pill.
Can You Dye Wool Blend Yarns?
Yes, you can.
Wool Blend Vs Pure Wool Yarn
If you want a yarn that's cheaper and easier to care for, then wool blend is better.
If you want a yarn that's more luxurious and durable, then pure wool is better.
Are Wool Blends Good?
Yes, they're good because they're affordable, durable and have the benefits of wool.
Is An Acrylic Wool Blend Good?
Yes, it's good because it's machine washable and has the benefits of wool.
What is Merino Blend Yarn?
Merino wool comes from the merino sheep, a breed known for its softness. It makes the yarn softer and less itchy.
Often blended with other fibers like silk, cashmere, alpaca.
Fabulous to knit with, I hope you find something to suit you.
Happy crocheting or knitting!
Hope you enjoyed this article. Do you have questions? Please leave them below!